Review of the Seiz Urbanpack U01
I started to look at replacing my aging backpack earlier this year, and spent some time researching my options. My primary concern was security: I wanted a backpack that was difficult to open from behind while I was commuting, to keep my possessions safe from pick-pockets.
I also wanted a backpack that would easily carry all of the items I carry on a daily commute, such as:
A laptop (currently a 14" Lenovo) or a tablet computer (currently a 10" Touchpad or a 7" PlayBook). The backpack needed to have a padded, secure compartment for these, without advertising that it was a laptop bag (I wanted something discrete).
Chargers and USB cables.
A portable USB hard drive for backups.
A notepad (Moleskine) and pens.
A collapsible umbrella.
A set of woolly hat and gloves in the Winter.
A magazine or book.
Reading glasses.
Keys.
Headphones (Beats Solo are pretty bulky).
A bottle of water.
Given that I was going to be living with this bag everyday, I was happy to spend some money for a quality product.
The Seiz Urbanpack U01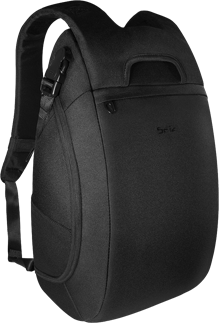 After a lot of research into various options, I settled on the Urbanpack U01 from Seiz due to the design that places all of the zips for accessing the main compartments at the rear of the bag. The advantage of this is that it is next to impossible for anyone to open the bag while you are wearing it.
There are two compartments accessible from the front of the bag (a magazine pocket and a small gadget pocket), but the main compartment and the all-important laptop compartment open from the rear via zippers that open from the top-rear and continue right down along the sides.
The other thing that appealed to me about the Urbanpack U01 was the amount of customization options available: you can choose to have a chest strap or not, have your name embroidered on the bag, or even have a solar panel fitted with a battery pack to charge your mobile phone on the go (although given the cost involved and the lack of sunlight where I live, I skipped the solar panel option).
Thoughts on the Urbanpack U01 after daily usage
I bought this bag about eight months ago and have been using it on my commute ever since, so I thought it was a fair amount of time to pass before writing a review. Overall I love this bag, it is a quality piece of kit, but it is not without some minor issues.
Firstly, the good points:
The bag is very comfortable to wear, even when fully loaded. The ample shoulder straps and back panels are well padded and meshed for breath-ability.
It stands up to moderate levels of rain quite well.
The main compartment of the bag is very spacious, and contains lots of little pockets for smaller items.
The detachable key ring connector is a nice touch: I use this all of the time and feel comfortable knowing that my keys are safely tucked away.
The laptop compartment is great. It is padded very well, and takes my 14" laptop along with a Moleskine notepad and documents easily.
The built quality is excellent. I have been lugging this bag around buses, trains, trams, and cars for the past eight months and the only signs of wear-and-tear is some minor scrapping of the black paint on the metal zipper handles.
There are no lose straps hanging from the bag. This is a design feature, and results in a very neat and tidy bag.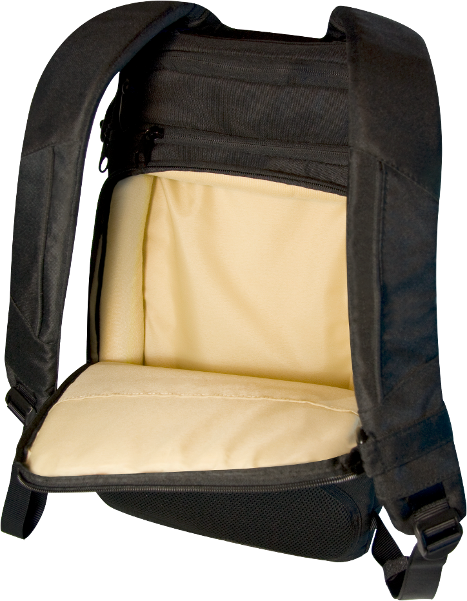 And now for some bad points:
The bag is semi-rigid, and offers no compression capability meaning the bag is always full size even when empty.
The magazine pocket on the front of the bag is a little too difficult to use. I found that even with a normal-sized magazine like The Economist, it would snag on the pocket zipper whenever I tried to remove or enclose the magazine, resulting in dog ears. Instead I use this pocket for a water bottle and a collapsible umbrella, and store my magazines in the document poach in the laptop pocket at the rear.
The lip at the bottom-rear of the bag is inclined to chafe a little at the end of your back (although I would guess this might be affected by your height). While not uncomfortable, it did rub on my clothes over time causing minor damage. I would not like to wear this backpack with an expensive business suit.
The bag is a little long, so might not be suited for those of us who are on the shorter side.
Overall though I love this bag, and would happily recommend it to anyone who is looking for a secure, robust, and stylish backpack for their daily commute. You can learn more about this bag at the Seiz website here: "Urbanpack U01" - http://www.seizpacks.com/en/discover/u01
Credits
All images are from the "Seiz" - http://www.seizpacks.com/en/discover/u01 website.
---
Updated 2023 : note that the above post was originally published in 2012, but is left here for archival purposes. I have fixed some broken links above. Sadly, it seems Seiz is no longer selling bags so I have deactivated the links above.