Alpha Framework 1.2.0 Released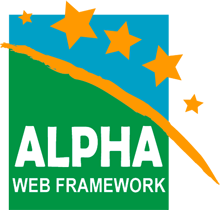 I am happy to announce the 1.2.0 release of the Alpha Framework is now available for download. You can download the release from the Alpha website here.
This release of Alpha is the first version that supports a database other than MySQL, as a driver for SQLite is now provided. The SQLite Data Access Object (DAO) provider makes good on the work that I done in Alpha 1.1 to abstract out the DAO providers in Alpha, making it much easier to provide support other databases in the future.
In this release, I have taken a similar approach to the view layer by introducing abstracted view providers that implement the new AlphaRendererProviderInterface. I hope that this refactor will pave the way for other DAO renderers for XML and JSON in the near future when I introduce REST API support in Alpha.
Other changes include:
Improved API documents generated with the APIGen tool that are now searchable. You can find the new documents here.
A brand new release and deploy script written using Phing. You can use this script to deploy your Alpha-based applications to remote servers if you wish.
An optional IP address security filter for the FrontController.
A PHP class auto-loader.
The log files, attachments, and file caches have been moved to a separate "file store" directory that is configurable, enabling you to isolate these files file the rest of your application.
The configuration .ini files have been cleaned up, while the server.ini file now supports multiple host name/IP entries for each environment.
An abstract code highlight interface has been added, which you can use to render source code in the CMS component in Alpha nicely. It comes with implementations for Geshi and Luminous, see the full package here.
For more information on this release, see the full change log and expect more frequent releases to come.
---
Updated 2023 : note that the above post was originally published in 2012, but is left here for archival purposes. I have fixed some broken links above.